#5. During the Civil War period, the Bureau of Engraving and Printing printed paper notes in amounts of 3 cents, 5 cents, 10 cents, 25 cents, and 50 cents. Why? People were hoarding coins because of their value.


Your First Job
Getting your first job is exciting; here are some tips to help you land it.
Getting your first job can be a bit of a challenge, but there are a few things you can work on and prepare ahead of time to help you ace your interview. Here's a list to help you get ready for that first job.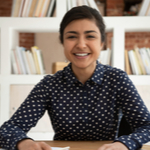 The application. Since this is your first job besides mowing lawns or babysitting, you won't have much of a resume. Even if you do, most places hiring young workers are going to have you fill out an application instead of submitting a resume. Make sure you fill it out completely and note any prior work experience.
Question yourself. There are a few standard interview questions you can prepare for: "What are your weaknesses?", "What are your strengths?", and since you're in high school, "What is your favorite subject?" You're going to need an answer for all of them. And an honest answer. Just because you're applying to be a cashier at a grocery store doesn't mean you love math. The point is to get to know you, not place you in your dream job.
Dress to impress. You don't need to wear a suit and tie to interview for the usher position at the movie theater. You should dress nicely though. Or at least nicer than what employees are wearing. The point isn't to show that you can dress for the job, it's to show that you know how to make yourself presentable.
Research. Know where you're interviewing. Go online, read up about the store or company. Look through their Facebook page. If you know anyone that already works there, talk to them. You don't have to know how to do the job during the interview, but you should know who you plan to work for and what they are looking for in an employee.
On-time is late. Showing up for your interview with seconds to spare is as good as being late. You don't need to show up an hour early—in fact, you shouldn't. But you should show up a few minutes early. More than likely they will just take you right in for the interview. Worst case, if you're not sure where you're going or where to park, you have time to figure it out.
Names. When you walk in, try to remember people's names. If you're interviewing in an office, remember the receptionist. Everyone you shake hands with along the way is a name you should remember and repeat if you see them on the way out. The person interviewing you is spending the most time with you, but the company as a whole is hiring you.
Listen. You're the one being interviewed, but that doesn't mean you shouldn't listen. Yes, an interview implies that they ask you questions and you answer them. But pay attention to how they ask questions. Most likely, the interviewer will ask you if you have any questions. Have some ready and listen to their answers.
Impress. Be confident, respectful, and on top of it. Or at the very least, make it look like you are. Turn off your phone. Make sure your shoes are tied. Don't eat anything sloppy before the interview, in case of spills. Be your best self: neat, tidy, and put together.
Follow up. Drop a note in the mail if you want to be formal, but an email is okay too. Just make sure you follow up; it shows you're interested and not just going through the motions. A phone call works too. Be polite and ask if there are any updates regarding the position. If you haven't heard anything for a few weeks, try following up again. There's a chance whoever they hired didn't work out and you could put yourself on the top of the list.
There is one more thing you should do before you go looking for your first job. Open a checking and savings account with your credit union. Unless you already have one. Babysitting and lawn mowing might have paid cash, but now you're going to get checks or direct deposits and you'll need some place to put your money.